A week at Bamboo Retreat Hotel on a working holiday
By Mutha Renu Sanja – Spring 2019
Introduction about the author:
I went to Bamboo Retreat Hotel in Sikkim, India for a working holiday, where I spent a week. It's been everything I had hoped it would be. The food is incredible. The people are hospitable, the scenery is just…..wow! I was thrilled to be at the Retreat. Here at Bamboo Retreat Hotel I had a routine. Great way to start the day by walking in the garden followed by breakfast and then activities in the garden like weeding, cutting, harvesting, welching which was totally enjoyable and an adventure itself.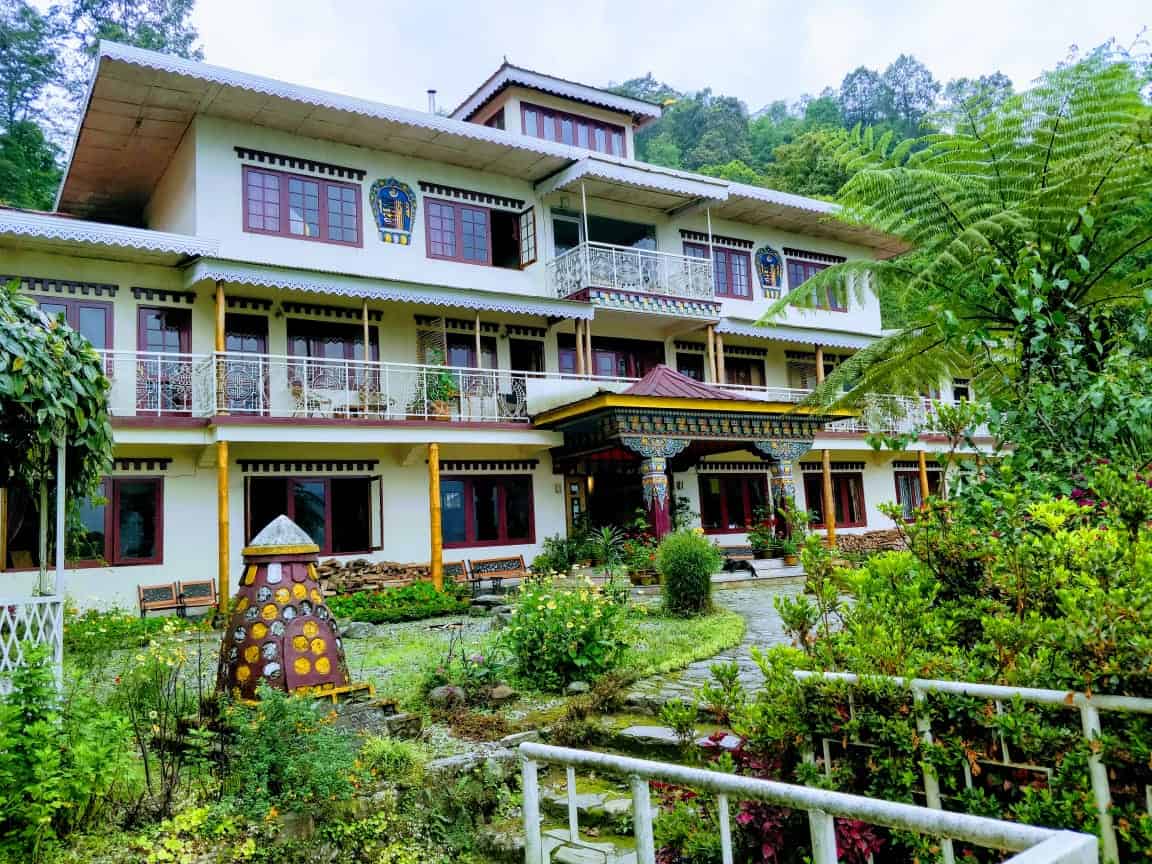 The dreaminess of this place increases more in the evening where I got the opportunity to conduct yoga sessions for a day or two. Sometimes I went sightseeing in the evening.
Overall experience working with Bamboo Retreat Hotel & Permaculture Estate was a pure delight. 
It awakened a deep desire in me for more.
I definitely want to come back.
It is said that nature is the best therapy and I have witnessed it here at Bamboo Retreat Hotel & Permaculture Estate.
The word "Retreat" touches upon your health. The whole concept is transmitted from the garden to the monastery-inspired stay with matching furniture and colour coding themes in the rooms. To name the one I stayed in, "Amber", its colour-theme is yellow which belongs to the element of earth. This room comes with plenty of sunlight and light yellow walls to give it bright sunny look with snow-peak mountain-view.
Natural beauty, paradise, peace and tranquillity surrounded by lush green trees, foggy mountains, the chirping of the birds, the kissing of the winds combined with the cool climate is like natural therapy. It has the effect of a retreat for your for your mind, body and soul which are all interconnected.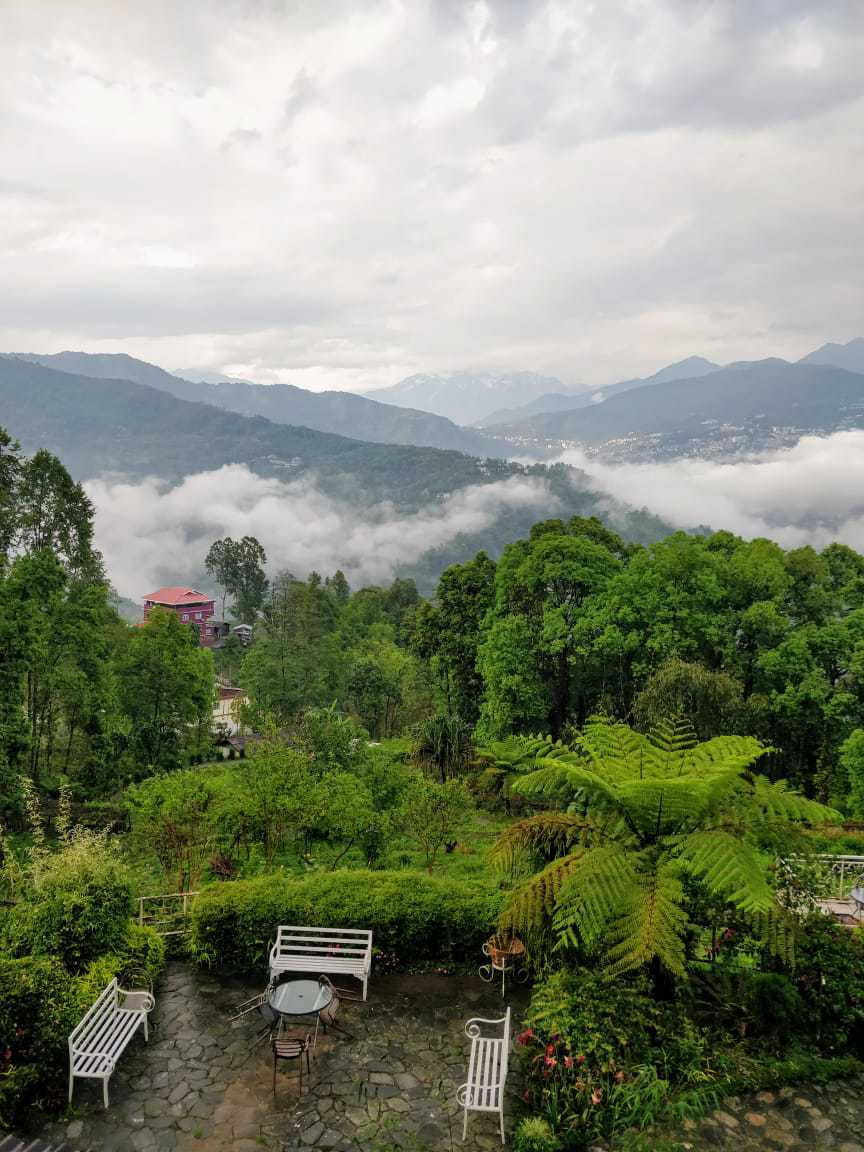 Facilities and Wellness Treats
The meditation room with adequate natural lighting with, fresh air and sufficient space to sit comfortably, the wood-carvings on the wall, the paintings on the ceiling, the statue of "Buddha" gives energetic and positive vibes to enhance your mood in harmony and balance. Needless to say I've experienced deep state of calm and composed mind and felt totally relaxed when meditating in this room.
Yoga therapy with sun salutations, floor exercise, "asanas" (movements), inversions and pranayama (breathing practices) and relaxation techniques is offered through an instructor to transform your body and calm your mind upon prior reservation.
The Gardens
The retreat-hotel has a variety of gardens in which grow a variety of plants: from spices and medicinal plants and herbs such as curry-leaf-tree, cinnamon-tree, chili, ginger, curcuma (haldi), cardamom (aleichi), mints (pudina), basil, stevia, etc. to vegetables such as squash, potato, sweet potato, yams, broadleaf mustard, coliflower, carrot, cabbage etc to fruits such as lemon, banana, guava, kiwi and physalis-berries to colourful flowers and decorative leaf-plants all to create contrast in shape and colour. All are grown totally organic.
The Bamboo Retreat Hotel's Garden Restaurant
In the bamboo retreat hotel's restaurant authenic sikkimese cuisine is served such as bamboo sprouts prepared as an exotic and delicious vegetable dish. It was delicious.
The nettle soup is another typical food-preparation of Sikkim and was much appreciated. It has many health-benefit, one of them being the lowering of blood pressure. These varieties of ethnic food-dishes are cooked straight from the garden: healthy and organic food on the table daily. These food-preparations come with immense health benefits as most of the ingredients are freshly harvested and grown chemical-free, without pesticides or chemical fertilizer – instead fully organic with its real taste and well supported by staff. The staffs here are friendly and available on call and give guidance and direction on local sightseeing if needed. Evenings and dinner are spent by indoor fire which makes the atmosphere quite cosy.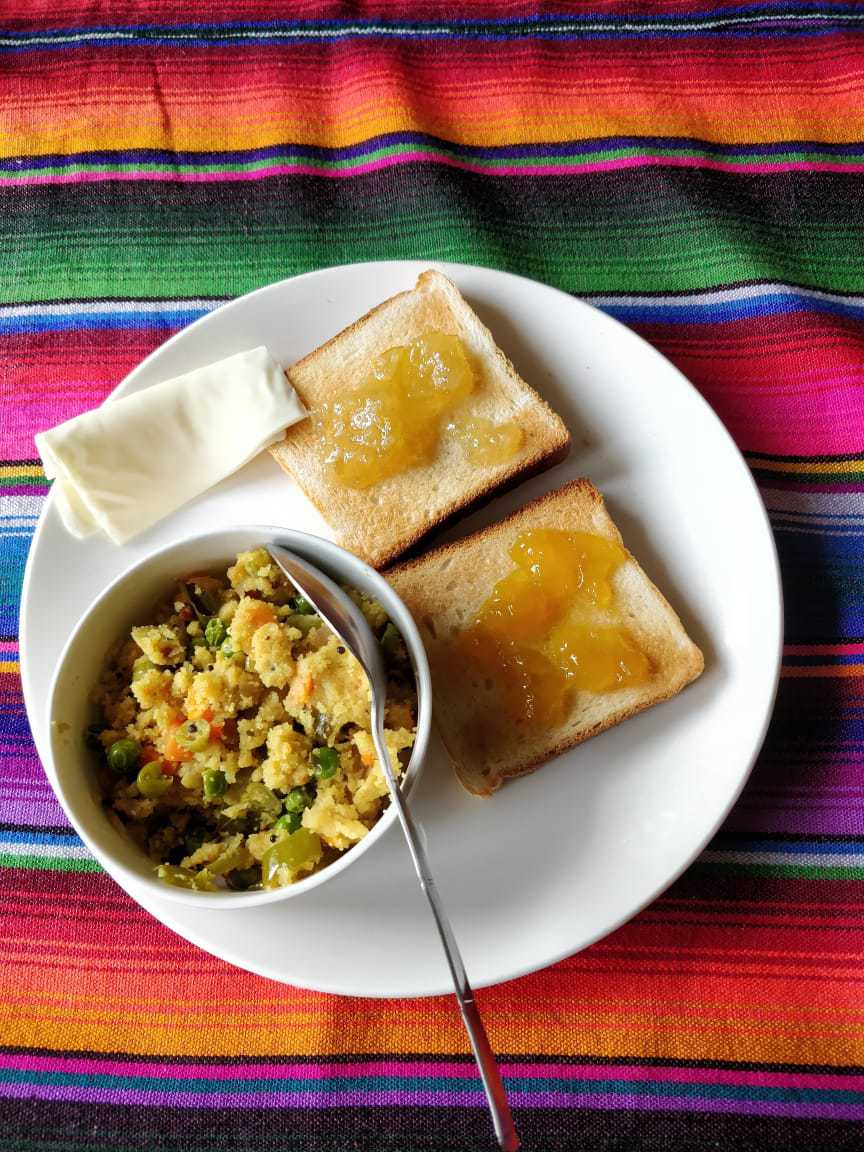 The benefits of engaging in garden work
Here gardening is done with the help of locals who are quite expert in designing and maintaining them though a lot of it is physical activity. Timely weeding, watering of plants, cutting, mulching, trellising and harvesting is done from time to time. Studies have shown gardening helps lower cholesterol, reduces stress and depression. Researchers also say merely looking at garden is enough to affect your blood pressure, heart muscles and even endorphins of the brain and I've witnessed and experienced the same staying at Bamboo Retreat Hotel and Permaculture Estate.
Plants are important for survival; they release oxygen after taking in carbon dioxide thereby generating cleaner and fresher air. Bamboo Retreat Hotel & Permaculture Estate is located in this perfect location, free from the hustle bustle of outside and traffic noise. Most importantly its proximity to important religious monasteries.
Plants also prevent soil erosion because their root system holds the soil in place. Rain garden allows you to collect rain water and prevent pollutants from mixing with lakes and streams. Bamboo Retreat Hotel & Permaculture Estate being an Eco-hotel maintains the same and contributes towards creating more biodiversity. It contributes to environment responsibly while enriching our table.
A rejuvenating Retreat Hotel
This rejuvenating retreat is one of its kinds. One step into the heral bath room and you find yourself surrounded by scented candles, a bath-tub with mixture of colourful flowers served with herbal tea. This is where a melange of luxurious therapy awaits you. The specialists carefully identify treatments suited for your unique body type. From mystic body massages to ancient ayurvedic rituals and relaxing therapies each experience is sure to resonate with you on a deeper spiritual level. The results range from increased blood circulation to removal of bodily tension and stress with full mental relaxation. So come and soak yourself in eco friendly Bamboo Retreat. While the herbal bath can be booked short of notice, ayurvedic massage therapy and the outdoor hot-stone-bath must be booked a day ahead.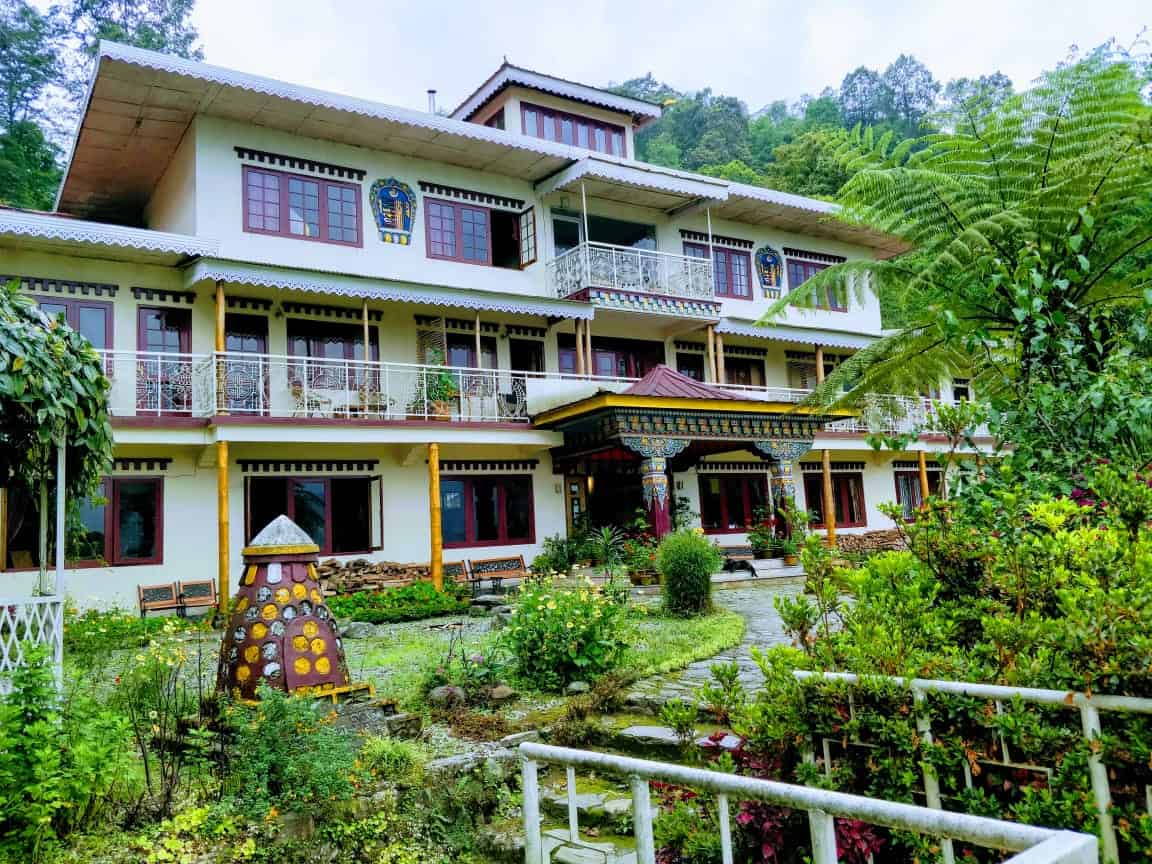 A bio-diverse permaculture farm
Bamboo retreat is an example of bio-diverse permaculture farm where you can experience the varieties of plants and living organisms and savour nature during your entire stay. Every plant here gives you the touch of nature with their medicinal goodness and natural beauty. Indigenous plants like lightening weed, oxalis, dandelion, black fern (kaali sinka) could be seen in every corner. While touring in garden, one can see many edible flowers. Nasturtium, Nakima (Sikkim edible lily), physalis, sun-artichokes, marigold, hibiscus or black turmeric. Each comes with many healing treats, for example black turmeric is beneficial for many types of problems like menstrual overflow, toothaches and also it is used as a anti-aging product applied in skin.
Bamboo Retreat Hotel and Permaculture Estate is surrounded by the integrated farm where every plant could be seen as resource to human beings and other plants and shrubs. Timber like chilaune (needle wood), Dhupi (juniper), coral tree (phaledo) surrounded the area. These are home to squirrels and a variety of birds.