7 Experiences that will make your trip to Sikkim Unforgettable
Your unforgettable trip to Sikkim
To be able to truly experience a place, one needs to immerse themselves in the culture and history of the place. Interacting with the local people and getting information first hand is the best way to learn about a place. When it comes to Sikkim, people often are wonder-struck by the amazing views and the regular tourist circuit that they forget to dig deeper. Sikkim is a Himalayan state that has rich culture with unique architecture, dances, songs and cuisine. These are the must do activities in Sikkim that will ensure that your trip will turn out to be really special and memorable.
1> Lepcha Cultural Experience
Lepchas are the indigenous people of Sikkim. A peak into their lives will give you a great insight into Sikkimese culture. You can go on a one day pre-arranged trip to experience the Lepcha way of life. It includes a visit to the village monastery and interaction with the local monks and village shaman. Next, you get to witness a cultural program with all the traditional Lepcha dances, songs and instruments. You also get to visit a traditional Lepcha house and eat a traditional Lepcha lunch. This is one of the best experiences you will get in Sikkim.
2> Learn Buddhism
Sikkim is a land of monks and monasteries. Buddhism is a deep part of Sikkim's history. Also, here you can get a good idea about Buddhist history and traditions. You can learn from the monks themselves, ask questions and clear all your misconceptions once for all. Once you realize the beauty of the teachings, you will only be inspired to learn more. But, most importantly you will take back something really invaluable from Sikkim.
3> Ethnic Cooking
India has a large variety of cuisines. Every state and region boasts of a unique preparation style and an army of flavours. You can get a crash course to the basics of the Lepcha cuisine, unique to Sikkim. Also, you can learn to cook a number of Bhutia, Nepali, Lepcha dishes. This is knowledge that you can showcase to your friends and family. So, the next time you miss Sikkimese food, all you have to do is make it yourself and enjoy it.
4> Village Walk
When you move away from downtown Gangtok, you will discover numerous quaint villages and meet friendly villagers. You can go on a guided tour to beautiful villages and walk through scenic routes that are not on the tourist map. As you stop by the villages, you get to taste different snacks and even stop for a full meal. This enriching trip into the heart of Sikkim will stay with you for a long time. You will also get to see firsthand the laid back lifestyles of the Sikkimese and envy the views they get to see everyday.
5> Hot Stone Bath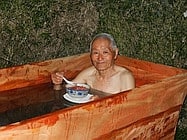 Popular among the country-folk in Sikkim, the traditional hot stone bath is an experience unique to the Himalayas. Spring water is collected into over-sized wooden tub. Heated stones are added to the water. Locally available herbs are added for their medicinal value. A special vegetable soup called 'Kowri' is served during the bath. This is such a relaxing experience that you will crave for it every time you return home from a busy day at work. So, you need to experience it as many times as possible during your stay in Sikkim.
6> Meditation Workshop
Meditating in the the Himalayas is a whole different experience. With nature to give you company and no noise to disturb you, this is the best place to connect with yourself. You can get a qualified instructor (Buddhist monk, nun or teacher) to do a personal workshop for you. This will be an opportunity to learn tips and ways to improve your meditation experience. Also, you can learn about how Buddhist monks meditate and the philosophy behind it. This would be a great opportunity to renew and revitalize yourself.
7> Monastery Tour
Monasteries in Sikkim are part of the tourist circuit. But, a lot of the quaint and smaller monasteries are often ignored. For a true understanding of Sikkimese history and culture, one has to go on a comprehensive monastery tour that takes in all the historical monasteries with legends attached to them. This will give you the big picture about the historical significance of Buddhism in Sikkim. This will also make you among the 10% of the people who go on the complete monastery tour in Sikkim. In the process, you can talk with locals, monks and nuns and get insights about Sikkim that you can't find in books or the internet.
All of the above activities can either be experienced at or be organized by the Bamboo Retreat. We would be more than happy to host you during your stay in Sikkim.