10 Indian Desserts You MUST NOT Miss During Your Next Travel to India
Okay! Let us begin with a caveat as it is. 
'This blog is only the itsy-bitsy tip of the colossal iceberg that 'dessert' is in India'.
Every region, throughout the length and breadth of this subcontinent, has huge stacks of different forms of sweet treats up its sleeve. From the juicy apricot-y delicacy of Qubani Ka Meetha from Andhra Pradesh to sixteen layers of Goan goodness of Bebinca, every state of India will stun you with their delectable goodies.
But for the first-timers to India, we have curated this list of some top desserts from around the country which can act as a beginner's introduction to Indian sweets. After all, desserts are stressed spelled backward and we don't want to stress you out with the sheer magnitude of Indian mithaisi (sweets).
And guess what, some of these scrumptious sweets you will find in the Garden Restaurant of Bamboo Retreat Hotel as well.
Okay! To let you in on a little 'kitchen secret' of Bamboo Retreat Hotel
The Kitchen Team here often whips up desserts that are not always mentioned in the menu. Since our food philosophy revolves around procuring fresh organic ingredients with special emphasis on seasonal produce, cutting down on artificial flavoring and focusing on traditional recipes, which is the reason why there are sometimes last-minute additions to the day's offering.
A word of advice: always enquire before placing order. Before venturing further, let us check out what is the 'desserts – scene' in Sikkim like!
Sweets in Sikkim
If you thought Sikkim is only famous for momos (steamed Tibetan dumplings) and thukpas (noodle soup), then think again! Apart from these savory items, there is a formidable array of sweet notes in the Sikkimese meal spread. Traditionally in Sikkim, sweet tea and fresh fruits were served as dessert.
Our kitchen sources fresh fruits from our own permaculture gardens like kiwis, guavas, and plums. Guests relish them with their breakfasts or in fruit salads.
Apart from these, Sikkim has several deep-fried snacks that can be prepared sweet, such as the Tibetan/Sherpa biscuits called Khapse which are slightly sweet and intensely addictive fried dough made with flour, butter, eggs, and sugar during Tibetan Losar festival.
Other sweet deep-fried snacks are Bhutia-snacks like Zero and the famous Nepali rice-flour fried dough ring, Fox Bread or sel roti which are prepared by Nepali households during the festivals of Tihar or Dashain.
You can taste some 'sel' roti as part of Nepali Ethnic Cuisine at our restaurant. So without further ado let's unleash this sugar rush on the rest of India!
Gulab Jamun
No festive feast in India is complete without these fried khoya balls (dried whole milk shaped into balls) dunked in saffron laced sugar syrup! A plate of slightly warmed Gulab Jamun will bring a smile to even a grumpy face. To know it's real magic, order away at our kitchen. We dare you to stop at just one!
Gajar Ka Halwa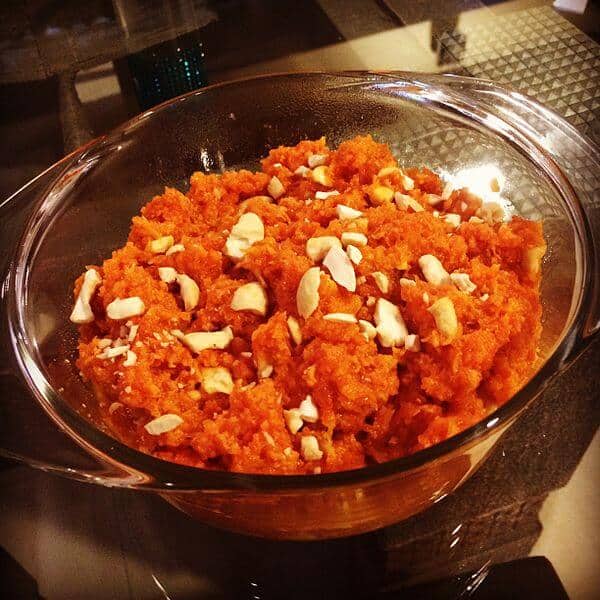 The ubiquitous vegetable of every Indian winter, gajar or carrot is now found around the year. Grate a kilo, reduce it on fire with some whole fat milk, add sugar and ghee and then sprinkle some cardamom powder to flavor it. When it is ready, just dress it with chopped nuts and some gold foil if you are feeling fancy. Voila!
The traditional Indian carrot pudding is ready. It's decadent and rich and will warm you up on any chilly winter night. Our kitchen cooks it with 100% organic carrots bought from the nearby farms or farmers market. And that takes the freshness up to another level altogether and zero harmful chemicals too. Total, win-win!
Soan Papdi
This flaky sweet made from gram flour, milk, sugar, and ghee is a very intense one. Just like a sugar-bomb exploding inside your mouth! Though the exterior is crispy, one you put some in your mouth, it melts down in no time. Owing to its dry texture, it is quite portable. You will often found it sold on the trains or shops in packets.
But if you haven't had the fortune of coming across this nugget of absolute divinity, then do find some in our restaurant.
Jalebi
If you thought the pretzel is of curious shape then you have not experienced the twists and turns of a jalebi! The ingredients are simple but the circular confectionary will light up any breakfast table with its sugar-coated crunch.
It is quite a popular Indian sweet and is devoured in different ways. Up in the North of India, you will see people pairing it up with curd for their breakfast or jazzing it up with creamy rabri (unsweetened milk reduction flavored with saffron) for celebratory banquets.
For weight watchers, a simple combo of jalebi and warm milk would do, toned or not. Down in the west of India, in the state of Gujarat, the locals consume it with fafda (a savory fried snack made from gram flour and carrom seeds) to kickstart their day. Some relish the combination of the crystallized sugary sweetness of jalebi and the salty snack.
Very appetizing! Which one would you like to try?
Kheer
Kheer or Indian rice pudding has many versions. You can have the North Indian kheer or a Bengali payesh or a South Indian payasam – you will be actually eating the same thing with a little variation here and there according to the region it is cooked in. It is an auspicious dessert served on birthdays and as a sweet dish to round off a wedding banquet.
Some, in fact, replace rice with vermicelli or sewai. Even that's delicious! The taste comes from sweetened reduced milk in which rice is cooked patiently. And Indian spices like cardamom and bay leaves lend a beautiful aroma. Adding to the texture are some crunchy cashews, almonds or raisins and the celebration is on point!
Rasgulla
Three ingredients and instant magic! If you don't like fried sweets, you can easily satisfy your sugar cravings with the king of Bengal's (West Bengal is a state in the east of India with Kolkata as it's capital) sweet, ro-sho-go-lla. Cottage cheese balls boiled and simmered in light sugar syrup. Yes, you only need whole milk, lime juice to curdle the milk and sugar syrup to boil the cheese balls in.
The outcome of this is mind-blowingly mouthwatering. Spongy balls dripping with deliciousness. We recommend you to have it warm and fresh though you might run the risk of your experiment turning into a binge episode. So beware!
Sandesh
This is another offering from the family of 'chenna' sweets or fresh Indian cheese and an ultimate ecstasy just like the rasgulla. But this one here is dry and made in another way. There are scores of flavors available for Sandesh. Once fresh chenna is made from curdled milk, it is drained completely of any residual liquid as a result of the curdling.
Then it is kneaded with crushed sugar and saffron and finally cooked again in a wok. There are several different molds available to shape the Sandesh just like you would do with cookies. With the season, the flavorings also change. Winter in Bengal ushers in the use of palm sap juice to make the great 'Nolen gurer Sandesh'.
Should you visit a traditional sweetmeat shop in Kolkata don't miss out on trying these royally luxurious delicacies.
Kaju Katli or Kaju Barfi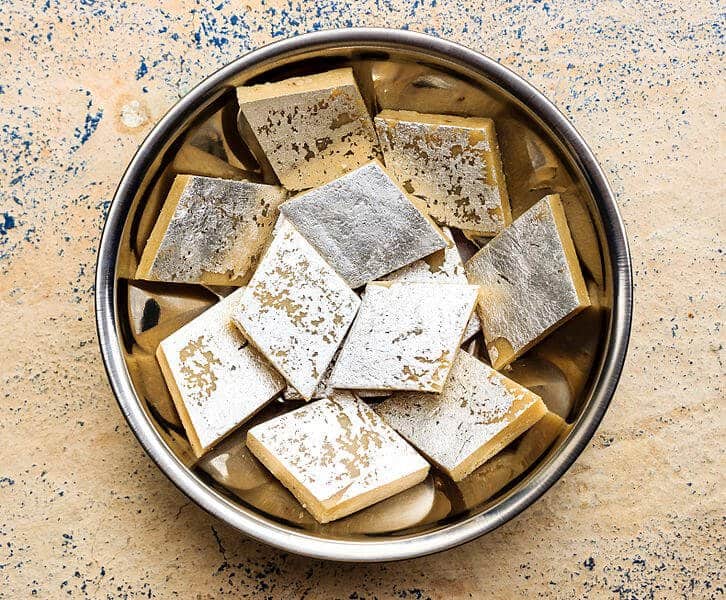 If you have addiction issues, you should probably just stay away from this one. Yes, you can't just pop only one and escape! The elegance of this diamond-shaped sweet and it's mild sweetness make it a double-edged sword to your sugar intake. If you are in India during Diwali (the festival of light), you will see a wide exchange of Kaju Katli as a festive gift between families and businesses.
It is an expensive sweet, the reason being its main ingredient – cashews.
The best thing about complex looking Indian sweets is that they are the simplest to make with little to no process involved. Just ground cashew powder cooked in sugar syrup and flavored with cardamom powder and kewra water (pandanus flowers extract used in flavoring a lot many Indian dishes like biryani etc).
Some silver foil or varq to deck it all up with and this, the delightfully rich dessert is ready to rock your world.
Laddu
The bearer of good news and companion of happy occasion in every Indian household, laddus are again, one sweet with many avatars. These roundels of reasonably satisfying moist mixture are deceptively simple to create. The recipe offers plenty of versatility.
You can have coconut laddus, boondi (tiny gram flour balls) laddus, besan or gram flour laddus, til or sesame seed laddus.
Really, you are just limited by your imagination. And if you want to try a divine laddu, do head down to Tirupati Temple that even has a GI tag (Geographical Indication)to their laddus! From Ayurveda to Indian mythology, historical texts are replete with the journey of laddu from being a medicine to the ghee-dripping sweet spherical wonder that it is today.
Shahi Tukda
If Petha belongs to the kitchen of Shah Jahan then Shahi Tukda graced the kitchens of the Nawabs before taking Hyderabad by its deliciously royal look and rich taste. Also known as 'Shahi Toast', this sweet is made in a few very simple but exotic steps. White bread is deep-fried in ghee or clarified butter.
Thereafter, it is dunked in a saffron and cardamom flavored sugar syrup for some time. Later it is topped with rabri or reduced milk and sprinkled with chopped nuts bits to pep up the crunch and dressed in gold/silver foil. The taste comes from the fried bread and the milk cream. It's a riot of deliciousness and decadence in your mouth.
Vegan traveling in India
With the copious amounts of dairy in every dessert, vegans traveling to India should not feel left out. Our treasure trove of sweetmeats made from jaggery, coconut milk or simple fruits is enough to give non-dairy consumers a lot to look forward to as well. Take, for instance, Tilkut or Til Katri. Tilkut is a dry sweet of pounded sesame seed and jaggery mixed together and rolled out into a thin disc and is delightful and crispy.
They come in sugar and unrefined sugar variety also, only their color will change, white for the former and light shade of beige for the latter. The jaggery one is deep brown in hue. It comes with hordes of health benefits too.
Other crave-worthy vegan traditional Indian desserts will be Chikki or Indian nut brittle, a lot like the granola bars. Backpacker's delight, it is super easy to store and munch on when you feel a little hungry or need a quick energy punch.
And if you're in Agra taking your mandatory romantic couple selfie with the Taj, don't forget to pack some Pethas from a nearby shop. These sweet chunks are made from ash gourds dipped in sugar syrup.
No dairy intervention and healthy to boot, it should be made a stable dessert in the travel bags of both the vegans and not-so-vegans!
So, follow our list and take your tastebuds on a taste trip of India and explore its sweet-side on a plate of delectable and decadent desserts.
By Shreya Nandy