The holy caves of Sikkim
Sikkim is the former buddhist kingdom in the Himalayas- it shows us the secrets of the Buddhist culture, opens our hearts and gives us a new perspective & inspiration. We believe that a visit to Sikkim's mystical places of power can help us reconnect with our heart.
Sikkim is a paradise
Sikkim is a paradise for people who are attracted to magnificent mountain ranges, different cultures and natural ways of living.
Here people searching for spiritual guidance can obtain inspiration – there are not many places where one can find so many holy mountains, lakes, rivers, caves, temples & monasteries – along with the magnificent landscapes.
On our journey to the Sikkim's holy caves, we will enjoy the breathtaking views looking up to Sikkim's diety of protection, the third hightst mountain on earth which stands: Mount Khangchendzonga.
To understand the value of these holy natural places, we will introduce you to the man who blessed this location with his presence.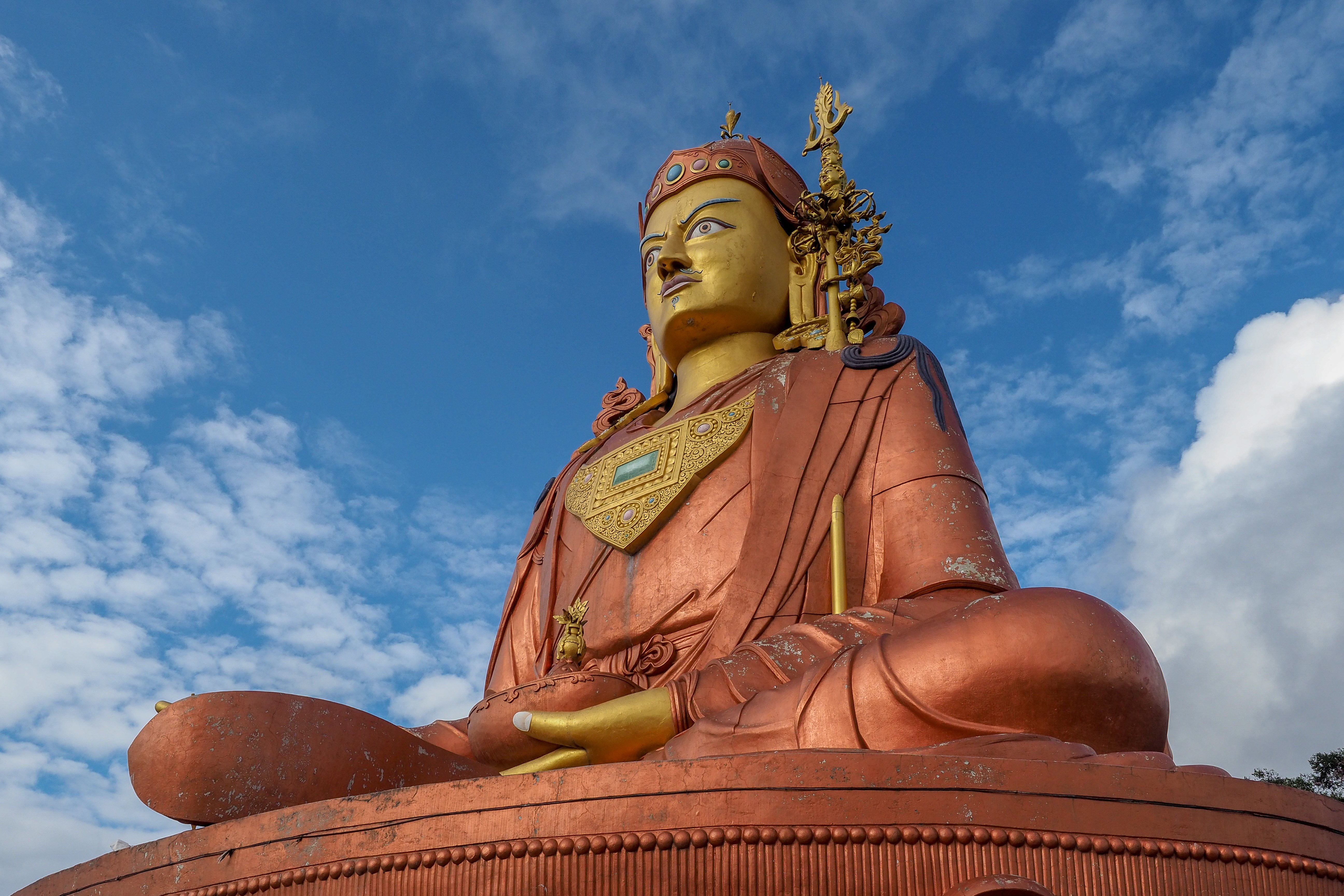 Guru Padmasambhava
Guru Padmasambhava (in English: born to the sacred lotus), also called Guru Rinpoche, is remembered as being the founder of Buddhism in Tibet. In Sikkim and Tibet, Guru Padmasambhava is honored with the title "second Buddha" an incarnation to the historical Buddha Shakyamuni.
During the 8. century Guru Padmasambhava at the request of the tibetan king Thrisong Detsen (756-796) spread Buddhism in Tibet. During his journeys to and from Tibet, he visited Sikkim several times where he meditated in many places and also predicted that in a few centuries, Buddhism would establish itself in this area. On his journey, he hid many of his spiritual treasures encoded in secret places, such as the caves of Sikkim, which have ever since been considered holy.
Buddhist holy sites are usually special because of the people who mediated in these places. They believe that holy people's presence and meditation have left these places blessed and with healing powers.
Enough of the history and let's get back to our journey: It is an empowering and inspiring adventure to visit the five holy caves in Sikkim with Terralaya Travels. We trust in the "healing and cleansing power" that the visit of these caves may have and we leave our western skepticism at home.
These caves are located in all four directions from Tashiding, the spiritual heart of Sikkim.
On this journey we focus on our inner self – the environment and «energy» of this land may help us let go of stress and the hustle of modern life. We look forward to feeling in harmony with ourselves and nature – and will surely experience unforgettable moments in this amazing land with ist special people.
We will visit:
Sharchhogbayphung – the secret cave
Khando Sangphuk– The cave of fairies
Dechenphu oder Dechenthang– The cave of luck and happiness
Lharinyingphug – the old cave of the god of hills. The holiest of all the caves are truly hard to reach. A good endurance but as well a strong will is required, to walk up the steep path that gets us to the cave Lharinyingphug
Tsechephug– The central cave of Tashiding
The reason why natives undertake the strenuous pilgrimage treks is due to the cleansing and healing benefits that are said to derive from a visit.
In this cave Teron Rinchen Lingpa found the hidden treasures of Guru Padmasambhava and decoded them for the rest of the world: Many of the visitors believe that a visit to these caves can help fulfill their wishes for a long life, wealth and prosperity and that they will be blessed with many children.
Are you curious yet? On this mystical trip, there is so much more to discover. You will find more information under www.sikkim.ch
The Bamboo Retreat Hotel and Terralaya Travels lead you to unforgettable places and let you experience stories right there. We always keeping in mind our goal to offer a bridge between cultures – as well as offering doors to open hearts.
The optimal time for this journey in Sikkim is November and December, when the nights get colder and the rainy period is over and the morning fog disappears. Then you can best admire the view over the majestic mountain ranges of the Himalaya.
Another great time is during September, October, March, April or May. The trip can be booked individually from one person onwards.
The journey can be adjusted to your wishes and personal needs. For example, if you are not physically fit, we can offer this journey without the caves that require trekking to reach them and with other points of interest to your liking instead.
For further information, contact us. We are looking forward to meeting you.